What's New?
The Scheduling Tool is updated with major new features or complete redesigns of old features from time to time. In addition, the program is continuously improved by fixing bugs and tweaking small things (those changes are not reflected below).
To stay up to date with the latest improvements you may wish to sign up for MedRez.net's occasional announcement emails.
Feb 9, 2021
Improved Account Home Page
New year-based navigation of your schedules makes it easier to keep old schedules around.
Improved feedback on Schedule dates when creating a new schedule.
Completely redesigned Schedule Trash interactions. It is much faster and easier to put schedules in the Trash (and take them out!)
Feb 7, 2020
Redesigned Residents Tab
Complete redesign and rebuild of the Residents tab for Call/Shift schedules with a focus on making managing residents as easy as possible for first time users and veterans alike.
You can now add any Resident to any Block in just a couple of clicks.
Select a Rotation using the "Auto-Include" dialog and watch the Blocks get populated in front of your eyes.
The timeline design gives you a clear and complete view of when a resident is in a block.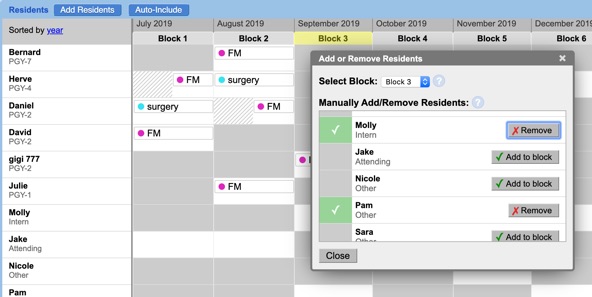 The new Residents tab.
Jan 2, 2019
New Server
A more powerful server was deployed to improve the performance of the Scheduling Tool.
More up-to-date software is being used throughout MedRez.net for better security and reliability.
Feb 28, 2014
New Annual Rotations Schedules Editor
Complete redesign from the ground up for the Annual Rotations Schedules Editor.
You can now mix different blocks in the same schedule, so you can have different block dates for your Pgy-1s, or create schedules that use 2-week, 3-week, 4-week and 6-week blocks.
Advanced custom Tallies let you count Rotations taken by Residents over their career and set targets for each year.
Drag and drop Rotations around to edit your resident's schedules.
Get going quickly: every aspect of the new editor has been designed to be easy to grasp. A lot of help is provided in the application to help you along.

The colorful new Annual Rotations Editor
Nov 16, 2012
Complete redesign of the Schedule Viewer
The part of the Scheduling Tool where residents and staff view their schedules has been completely redesigned.
The new Schedule Viewer is simple to navigate and easy to use for everybody.
All Schedules are viewable on smartphones and tablets in addition to regular computers.
A new "On Now" view shows you who is on now, who is coming in shortly, and who just left.
Each resident has their own page where they can view, export and sync their schedules.
Residents and staff can now sync their schedules with their personal calendar software thanks to a dedicated calendar feed.
Pager numbers for residents and staff can now be displayed along with published schedules.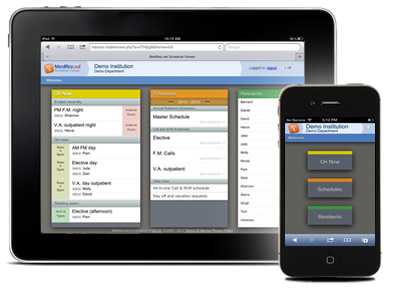 The new Schedule Viewer as seen on an iPad and iPhone.
March 20, 2012
Major update to Shifts, Tallies and Areas editing
The Shifts editing part of the MedRez.net Scheduling Tool has been rebuilt from the ground up with two goals in mind: ease of use and flexibility. It is now easier than ever to manage your shifts and calls, even in large programs and those with complex requirements.
Tallies and Areas management functions were rebuilt as well to make them more intuitive and more flexible.
The Staffing Requirements dialog for Call/Shift schedules got a brand new drag-and-drop interface. See below.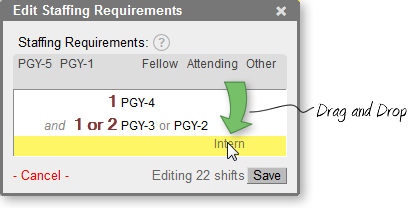 The new Staffing Requirements for Shifts & Calls dialog.
August 24, 2011
Update to the Schedule Viewer
For maximum convenience residents and staff can now search for their schedules from the MedRez.net home page.
Beautiful personalized PDFs containing all relevant scheduling information can be downloaded and printed for each resident or staff.
The Calendar View for Call / Shift schedules has been improved.
The new "By Resident" view for Call / Shift Schedules shows days across the top and resident along the left hand side and clearly displays who is doing what each morning and afternoon.
And more... See the Online Schedules page here.

The new schedule search box on the MedRez.net home page in action.
June 16, 2011
Customizable Duty Hour Rules
All Duty Hour rule parameters can be customized to meet your needs.
You can now set different rules for different resident years or staff types.
Display of Duty Hours per Week, Calls per Week, and Days Off per Week rules in the Stats Table has been improved.
See the Duty Hours Rule page here.
May 8, 2011
Resident PGYs and Schedule Years
You can now set a sequence of PGY-levels for residents to follow and the program will set the correct PGY for each Schedule.
Each Schedule is now identified by its academic year in addition to its name making it easier to organize Schedules over multiple years.
Tweaks and improvements were made in the display of certain published schedules.

A resident's progression from PGY-1 in 2010-2011 to PGY-4 in 2013-2014.
Apr 20, 2011
Improved Randomizer and Performance
The new Call / Shift Schedule Randomizer creates better schedules whether you make large shift schedules or you are trying to fit a call schedule around other commitments.
"Progress bars" show how close the Randomizer is to finding an optimal schedule.
The Randomizer can now be stopped at any point to view the results.
Significant performance improvements when editing large Call or Shift schedules.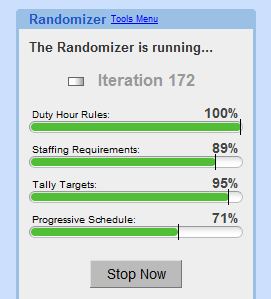 The new Randomizer progress bars.
Dec 20, 2010
More Call/Shift Scheduling Enhancements
Call/Shift Scheduling calendar now shows where a resident is working a few days before the beginning of the block, and a few days after to help you make good block-to-block transitions.
The calendar also shows if the resident is on a Call or Shift in a concurrent block which helps avoid conflicts if you have separate Clinic and Call schedules for example.
Day-Off Requests now appear as an overlay in the schedule you are editing.
Manage Day-Off Requests from the block you are editing.
Fast new interface for setting Tally Targets.
Improved space-management for Call/Shift Scheduling page.
Back-end improvements.

External Shifts/Calls (grey rectangles) and Requests (green bar) in the calendar.
Nov 16, 2010
New Options for Schedule Publishing
Displaying Request Tallies and Request Status is now optional.
Displaying Tally Results with Call/Shift schedules is now optional.
More streamlined Publishing system and bug fixes.
May 25, 2010
Call/Shift Scheduling, and Miscellaneous Enhancements
Polished user interface in Call/Shift Schedule edit tab.
Better support for different screen sizes thanks to the adjustable widths in the Call/Shift Schedule editing tab. Users with small screens can make better use of the limited space they have, and users with large screens can view all tallies and the schedule side by side. Nice!
Improved Reference Manual. Help topics are searchable by keyword.
Miscellaneous bug fixes and improvements.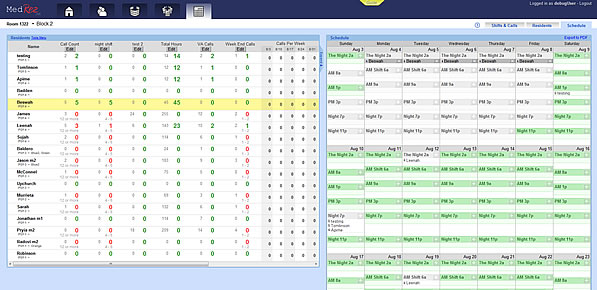 The Scheduling Tool on a 1920-pixel wide screen.
Apr 8, 2010
Export Schedules to Google Calendar
Residents and staff can now export their schedules to Google Calendar. From there they can use Google Calendar's many utilities to sync their schedules with Outlook, iPhone™, etc...
Mar 3, 2010
New Schedule Maker's Guide and Block Dates Interface
The new "Schedule Maker's Guide" is a set of articles designed to help you get the most out of the MedRez.net Scheduling Tool. Details are here.
The interface for creating blocks has been completely redone. It is now faster, more intuitive, and more powerful. The "Fast-fill block dates" function creates all your blocks for the year in three clicks. You can also "Reuse block dates" from other parts of the program to avoid duplicate work. View the video below:
Oct 20, 2009
Day-off and vacation requests
Residents and staff can now make day-off and vacation requests online through the MedRez.net Schedule Viewer. Watch the video here.
All requests can now be managed in one central location, although requests can still be added/edited within individual schedules.
Requests can be tallied against any number of custom categories.
A new "timeline" display replaces the table in a schedule's "Residents" tab. This is far more intuitive and pleasant to work with.
Aug 10, 2009
Improved Fast Fill, other improvements
The user experience for the Fast Fill utility has been improved.
The Randomizer algorithm has been enhanced to create schedules with better night shifts.
July 20, 2009
Randomizer feature added
The "Randomizer" feature has been added to the Call / Shift Scheduling module.
May 8, 2009
Fast Fill feature added, bug fixes
The "Fast Fill" feature has been added to the Call / Shift Scheduling module.
Bug fixes.
Mar 18, 2009
Annual Rotations Schedule module upgrade
Enhanced staffing requirements rule for Annual Rotations Schedules.
Publish Annual Rotations Schedules for online access by residents and staff.
Export Annual Rotations Schedules to PDF
Other improvements.
Dec 8, 2008
Introducing MedRez.net
The "Scheduling Tool" was renamed "MedRez.net Scheduling Tool".
Online access to the schedules on MedRez.net for residents and staff.
Sep 15, 2008
Enhanced Staffing Requirements and Customizable Tallies
Enhanced staffing requirements rule for Call / Shift schedules.
New flexible Call / Shift Tally system.
Aug 6, 2008
Improved rules and interface improvements
Improved "1 day off in 7" rule.
Interface improvements.
Jul 20, 2008
Initial release of the Scheduling Tool
H2-O2's Medical Resident Scheduling Tool was released for sale.