Telephone and Email Support When Needed
Support is available by telephone or email from 9 to 5 Pacific time to all customers and trial users. There is no extra charge for tech suppport.
MedRez.net tech support is quite simply outstanding! They are responsive, accountable and extraordinary in their efforts to make MedRez.net the most efficient, capable resident scheduling software available. "
- Dr. Scott Forman, Chief Resident 2009-2010, Department of Emergency Medicine, University of New Mexico.
more...
Help and Guidance Are Built Into the Program
Never feel like you don't know what to do next. The program gives you helpful hints so you can get going quickly and be done making schedules.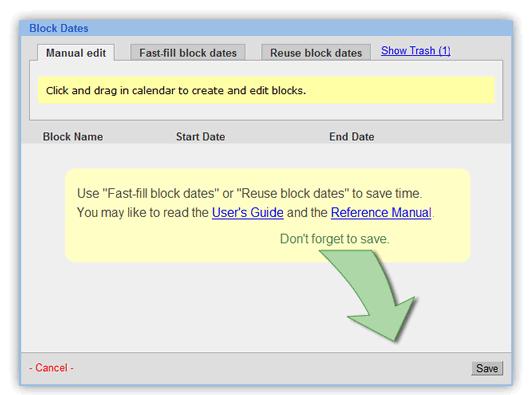 Schedule Maker's Guide
The Schedule Maker's Guide slides down from the top of the screen and contains articles and tutorials that help you get the most of the MedRez.net Scheduling Tool.
The information contained in the Guide is a compilation of all that we have learned while helping chief residents and others use our software. It's like having the developer of the MedRez.net Scheduling Tool coaching you as you work on your schedules.
To make things even better, the Guide is copiously illustrated, easy to read, and is printable.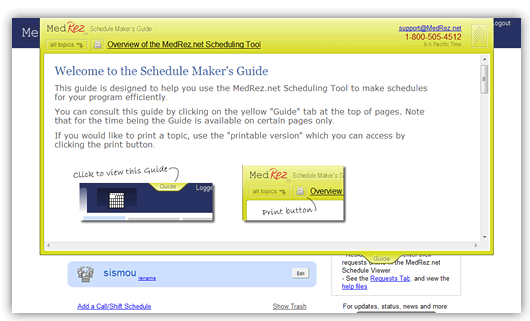 Complete Set of Help Files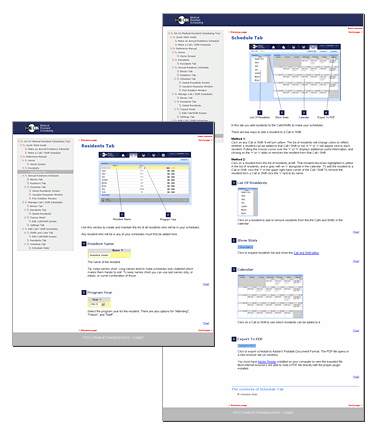 Although the program was designed to be self-explanatory, and the Schedule Maker's Guide provides a high-level view of the software sometimes you need to know exactly what some button does or the exact meaning of a red highlight over a resident.
The help files, or "Reference Manual" covers every button and every corner of the software and is accessible from the top of each page.